Welcome to our homepage!
Since childhood my great love is the Doberman, beautiful, athletic and loyal to the family. There was nothing I wanted more than my own Doberman. In 1996, this dream came true with Magic von der Westfalenhalle. Only two years later Quiry of Hagenstern followed. I was able to complete the ZTP successfully with her and also passed the level SchH 3.
With her ​​my breeding started and on February 10th, 2002 I had the first litter, the kennel "vom Elbauetal" was born. Avanti, my first own bred girl stayed with me. She gave me four wonderful litters with very promosing dogs. Many dogs of her progeny have been successfully trained, passed SchH titles and they were presented at shows.
The year 2009 brought two fates for me. Quiry fell asleep with more than 11 years peacefully in my arms. But soon I also had the great fortune to get a black female from famous and successful kennel "de Grande Vinko" - Quirina!
Not even a year later, a black male enriched from the same kennel my breeding, today it is my greatest pride - Wizard of Oz de Grande Vinko...
Today I achieved with Wizard the level IPO 3, ZTP and even the Körung ZVA !!
From the combination Wizard and Quirina my H-litter saw the light of the world on August 27th, 2012, where all of my expectations were exceeded.
Harley stayed with me. Currently, he is going to be great and it will be hearing a lot more of him...
To this day I am succumbed to the fascination Doberman.My breeding goal is a beautiful Doberman, occupying a sovereign position at shows and on the training field, in the family and in all areas of today's society.

Nasuri vom Elbauetal passed ZTP with V1A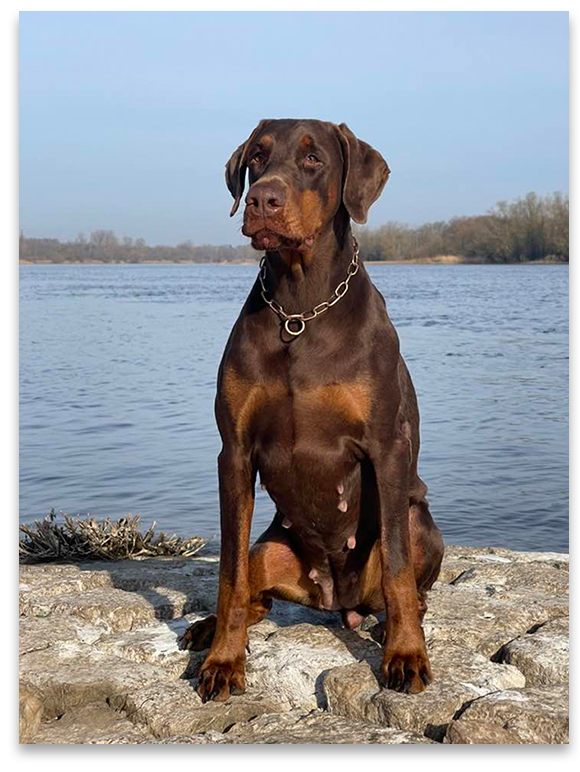 Dicasa Oro Zateya is V-ce IDC Jugendsieger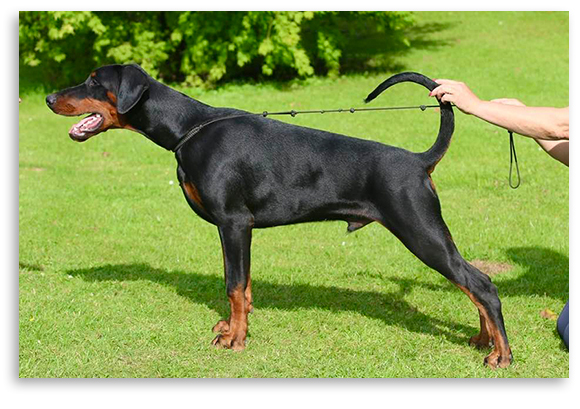 December 3rd, 2023ZTP in Abteilung Hannover, judge: Armin Hoppe, decoy: H. Wagner:
Nasuri vom Elbauetal ZTP V1A

November 27th, 2023NapoleonEnzo vom Elbauetal IBgH 1 passed

November 26th, 2023Gran Maestro's progeny -> NKK Nordic show OCC 2023:
Dark Isengard Aston Martin Ex, CQ, jun.CERT, CERT, Nordic CERT, Best male and BOS

Dark Isengard Angelina Jolie Ex, 1 jkk

November 12th, 2023Gran Maestro's progeny -> IDS Herning Winter Show 2023:
Dark Isengard Al Capone Exc2, EX, CQ

Dark Isengard Angelina Jolie Exc1, CQ, 3BF and Danish Junior Winner
DANISH JUNIOR WINNER
Norwegian Junior Champion
Nordic Junior Winner 2023
Jubileums Junior Winner 2023
Norwegian Dobermann Club Junior Champion

November 5th, 2023VDH Bundessiegerschau Dortmund 2023:
Dicasa Oro Zateya

Exc1


OnaOrella vom Elbauetal Exc1, finished German DV & German VDH Youth Champion

November 3rd, 2023Herbstsiegerschau Dortmund 2023:
Dicasa Oro Zateya

Exc1, res-CAC


OnaOrella vom Elbauetal Exc2